Sale!
Description

Additional information
Description
Take Your Dog in The Car Without Any Water, Dirt, or Hair Left Behind with Petcofy's Dog Car Seat Cover!
Petcofy Dog Car Seat Cover with a mesh visual window means you can check the pet's behavior and its mood at any time, protect your dog from uneasy feelings. Moreover, the mesh window of the dog car seat cover allows the airflow to the back seat, keeping a cool environment for your lovely best friend. Dog car hammock design provides all-around protection. Order this dog car seat cover, no worry about your pets, feel at ease when you are driving, plus get a chance to win up to 500 USD prize from us.
Do you like to take your pets on a car ride with you? Do your pets think it's their job to get everything dirty? Then this 56″x60″ rear seat cover is something you need.
That's why we created the Petcofy Rear Seat Cover designed to universally fit any standard vehicle and is equipped with seat belt openings, straps to fit headrests, and a rubber non-slip backing.
❌ No more dog hair everywhere!
❌ No more scratches!
❌ No more cleaning up mud, water, and urine!
❌ No more dog smell!
✔️ Take your dog everywhere with you!
✔️ Keep your dog safe while driving!
✔️ Keep your car clean!
✔️Fits all cars, SUV, Trucks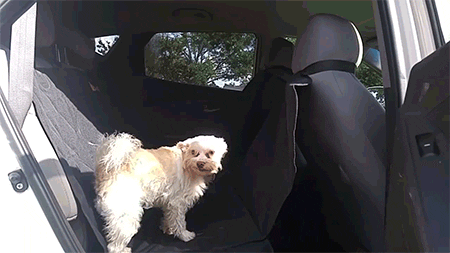 UNIQUE ENVIRONMENTALLY FRIENDLY ANTI-SLIP PARTICLES – Different from other dog seat covers for the back seat, Winner Outfitters dog car seat covers use unique plastic spraying anti-slip particles rather than normal plastic skid net. It's safe even your dog ingests it by accident. Moreover, the anti-slip particles won't melt like plastic skid net in hot weather.
 PET-FRIENDLY DESIGN – It comes with a non-slip base finish designed to protect your pet from slipping towards the dashboard every time you hit the brakes. This translates to a much more worry-free driving experience for you, and a comfy lounging experience for your pet. Our Premium Dog Rear Seat Cover comes with anchors, that hold it securely in place, and has a non-slip rubber backing that prevents slip-sliding so you NO NEED TO WORRY about dirt, dander, or claw marks on your seats.
 DURABLE & 100% WATERPROOF MATERIALS – Winner Outfitters dog car seat covers are made by 600D oxford with TPU coating and use hot pressing tech, not need needle stitching, all make sure 100% waterproof. No worry about the urine stain, mud, hair, etc. Moreover, the headrest cover and side flaps can protect your car from scratch. After outdoor camping, the dog backs to the back seat with dew and dust, you don't have to clean the car. Just wash the pet seat cover by machine, so easy!
COMPATIBILITY & EASY TO INSTALL, CLEAN.
 EASY TO CLEAN – Easy to install within a few minutes according to our instruction manual. Excellent size of 56″x60″(Width x Length / larger than other brands) will perfectly protect your car from scratches or mud. When the back seat car cover gets dirty, you can just remove it at ease and launder it in the washing machine to get it fresh, clean, and ready for use again. Adjustable straps with plastic buckle provide max adjustability for the most size of a car. Plastic anchors help you fix the dog seat cover to the car firmly.
 EASY TO INSTALL – No special tools and technical skills needed. Our 56″x60″ Petcofy Rear Seat Cover installs in just a matter of minutes. Simply unfold the dog seat, hook the safety strap on the front and rear headrest of your car, truck, or SUV. Once attached, insert the seat anchors in between the seat back and the seat surface to prevent the cover from sliding out of place. Once done, you're all set for an easier travel experience.