Sale!
Description
WANT TO KEEP YOUR CAT EXCITED WITH ROTATING WINDMILL?
You got Netflix, how about your cat? The Windmill Interactive Cat toy is the new all the Bells & Whiskers (!) for indoor cats that don't get all their energy out. Playing for our cat is essential not only for health reasons (keeping fit and avoiding overweight) but also to avoid behavioral problems since a cat that finds the stimuli it needs at home are more likely to suffer from stress episodes.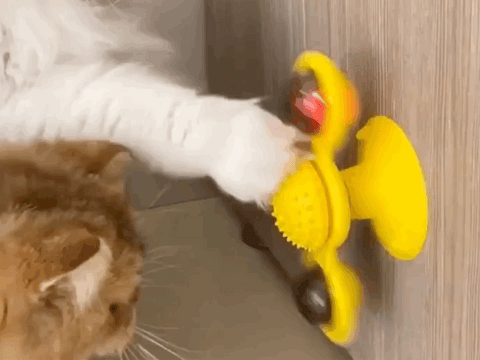 The ideal is to spend some time each day playing with our cat, but if they need additional stimulation to stay active the rest of the day, interactive toys are an ideal option.
Chosen as the best cat toy in 2020!
This revolutionary toy mimics the windmill movement to attract the cat's attention and helps them keep agile and stay healthy while effectively increase their focused concentration.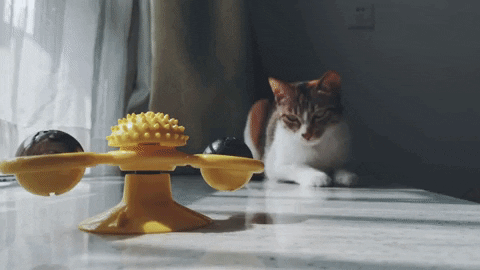 Reduce Cat Anxiety: Cat turns windmills can reduce cat anxiety, watch your kitten play away for hours, turn the windmill cat toy gives your cat all the feline fun without clutter, help you keep your cat agile, and keep your cat healthy and focused.
Strong suction cup: Its suction cup base allows it to stick to any smooth surface in both horizontal or vertical orientation keeping it still while kitties play.
Created to keep your pet engaged and active and provides hours of fun and entertainment. As soon as they see it they won't stop playing with it!


The spinner cat toy is designed with 2 transparent round placement grooves on the round blades of the windmill which can place catnip, bells, snacks, treat to draw the cat's attention.
The strong suction cup at the bottom: The strong suction cup is used at the bottom of the funny cat toy, the bottom glue is finally synthesized by 8 processes, which can be sucked on the floor, doors, and windows, and under the table. any flat surface like tile, glass, window, tubs, mirrors, Or the place where your cat often appears.
 RELIEVES STRESS AND ANXIETY
The movement and interaction caused by the toy are designed to keep the cat entertained and thinking, making the anxiety disappear, and keeping them relaxed.
SOFT SCRATCH HAIR BRUSH
2 in 1 Cat Groomer: Not only a cat grooming brush but also a rotating windmill cat toy. Other toys can be placed in the windmill, like cat catnip, when the windmill is gently moved, it will rotate, making the cats love not releasing their claws, and there are a hair and face rubbing device in the middle. This kitten toy is designed with a hair and face rubbing brush in the middle. This is a self-grooming tool and it will comfort your cat while playing. A great personal grooming aid for cats that is designed according to the cat's lifestyle.
MADE WITH PREMIUM MATERIALS
This cat toy for indoor cats is made of eco-friendly and soft silicone, which is non-toxic and safe. Perfect for biting, chewing, and playing.
WITH A STRONG SUCTION CUP
You can stick the suction cup to any flat smooth surface like tile, glass, windows, tubs, coated wood, or plastic to watch your cat play with it. Order this windmill interactive cat toy, no worry about your cats, feel at ease when you leave them alone, plus get a chance to win up to 500 USD prize from us.

【100% Satisfaction Guarantee】As Petcofy, we always struggle to provide satisfying products and we earnestly promise you can ask for a refund or replacement within 30 days. Just feel free to contact us if you have any issues and we will do everything we can to make it right as per our manufacturer's guarantee.