Sale!
Description
Do you love your kitty?
Do you love taking your kitty out on adventures?
If you say yes then Good News!
🎒Petcofy's Transparent Pet Backpack, helpful for calming down pets' anxiety, provide your pet a secure environment. 🏞 Breathable and comfortable. 🐕 It is very suitable and can be used for small or medium-sized pets as a dog backpack or cat backpack. 🐈
We have an awesome product for your kitty and puppy. Let's enjoy the adventure with your pet with our transparent pet backpack.
Portable Transparent Pet Backpack
is perfect if you want to take your little furry friends on an adventure! The transparent capsule not only makes your pet look like an astronaut discovering new land, but it also lets them take in all the scenery around them. The transparent pet backpack comes with holes to let your pet breathe, a blanket, and ample space for them to be comfortable.
With our transparent pet backpack, you'll be able to take your pet wherever you go in the most comfortable fashion. It comes equipped with a full-size bubble-like window giving your pets an exciting view of the outdoors, paired with adjustable straps and handles, making the whole experience very worthwhile for you and your pet.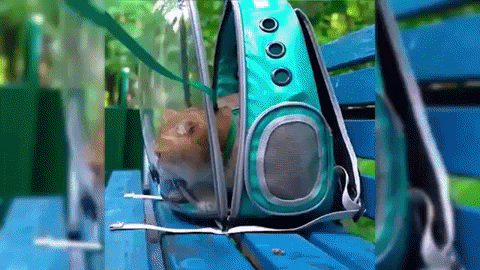 Provides Outdoor Interaction: This adorable transparent pet backpack makes use of a "solution-centric" design allowing your pets to observe and enjoy the wonders of outdoor scenery. It has a fully transparent bubble shell giving them a visually immersive experience. Show your pets the wonders of the outside world!
Pet-Friendly: This Transparent Pet Backpack comes with a built-in interior leash along with ventilation mesh panels on both sides that provide maximum accessibility, breathability, and comfort that your pets need as you take them with you outdoors.
Stylish Design: Turn heads and feel great as you take them with you outdoors. It has a cute capsule design that will surely draw a smile on anyone you cross paths with!
Comfort and Security Guaranteed: It packs a pair of adjustable shoulder straps, an inner leash, and a soft cushioned base providing you and your pets the comfort and security you both deserve. Stay comfortable – even in prolonged use.
Features:
✅ Transparent Capsule Design allows your pet to ease anxiety and to look around outside
✅ Large ventilation holes and breathable mesh keep your pet happy
✅ A built-in locking Belt prevents your pet from breaking out of the securely enclosed space
✅ The sturdy and waterproof capsule is made from high-density acrylic material
✅ Side pocket allows you to interact with a pet without letting them out
✅ A washable soft velvet pad allows your pet stays comfortable
✅ Adjustable shoulder straps help relieve the pressure on your back and make the carrier a breeze to wear for long periods
✅ Made of premium material, durable, breathable, and comfortable.
✅ Transparent design, allows your pet to view sunshine and scenery from the outside world. Several ventilation holes on the side of the backpack, provide sufficient air circulation, make your pet breathe comfortably.
✅ The secure built-in locking mechanism, prevent your pet from jumping out, getting lost, or hurt themselves. Detachable soft bottom mat, easy for cleaning, more hygienic.
✅ Smooth zipper, easy to open and close, durable, and practical.
✅ Ergonomic widen shoulder strap, make you carry your pet effortlessly. Perfect for traveling, walking, hiking, and hanging out.
Specifications of Transparent Pet Backpack:
Material: PVC + Oxford Cloth
Color: Red, Blue, Yellow, Rose Pink
Sizes: 14″ x 10″ x 16″ (35cm x 25cm x 40cm)
Weight: Approx.1.2kg​
Fit-able Weight:Solid bags 6.5kg cat or 5kg dog
Package list:
1 x Transparent Pet Backpack
Note:
1. Please allow a 0~1 inch error due to manual measurement. Thanks for your understanding.
2. Monitors are not calibrated the same, item color displayed in photos may be showing slightly different from the real object. Please take the real one as standard.
3. You can find more about us on Instagram